SUS304 and SUS410 are both a code name for stainless steel. They are both stainless steel in nature, but they are subdivided into different types.
1.Different Chemical Composition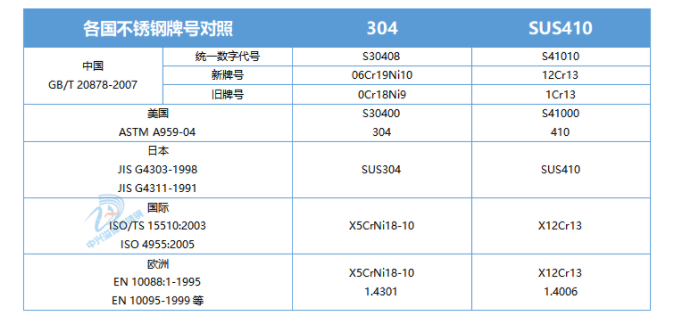 2. Different Organizational Structure
304 stainless steel is Austenitic stainless steel, SUS410 is a Japanese standard martensitic stainless steel.
3. Different Features and Uses
304 stainless steel is the most widely used stainless heat-resistant steel, used in food equipment, general chemical equipment, atomic energy industry, etc.
SUS410 stainless steel has good corrosion resistance, generally used for cutting tools.
4. Different Heat Treatment
The heat treatment temperature and cooling method of 304 stainless steel are respectively ≥1040 ℃ water cooling or other fast cooling.
The annealing treatment of SUS410 stainless steel is about 750°C fast cooling or 800°C~900°C slow cooling.