The fastener industry originated in Europe and the United States, and started relatively late in China. However, with the advancement of the global division of labor, the continuous upgrading and adjustment of the industrial structure, and the advancement of science and technology, China has become a major fastener manufacturing country. At present, the downstream application industry of fasteners is becoming more and more extensive, and there is a development trend from low-strength, general-purpose type to high-strength, ultra-high-strength special-purpose type.
China has always attached great importance to promoting the development of advanced technologies and production processes, constantly breaking the technical barriers of developed countries for the manufacture of high-strength and ultra-high-strength fasteners, and gradually striding forward to become a fastener manufacturing powerful country.
China has now become the largest producer of fasteners, and the fastener industry has maintained steady growth in recent years. According to the data, the output of metal fasteners in China increased from 6.28 million tons in 2016 to 7.43 million tons in 2019, with an average annual compound growth rate of 5.9%. In 2020, affected by the COVID-19, the output of metal fasteners decreased by 1.12 million tons, a decrease of 15.07% year-on-year. But China Business Industry Research Institute predicts that China's metal fastener production will reach 7.16 million tons in 2022.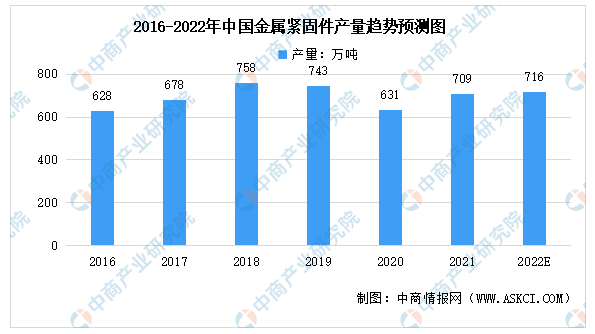 Data source: Compiled by the National Bureau of Statistics and China Business Industry Research Institute
Relying on the national development projects and industrial development direction, the trend of company to adjust to high-performance and high-value-added products supported by the state is obvious, sems screws and components, stainless steel fasteners, precision screws in IT industry, self-locking screw, titanium alloys, aluminum alloy fasteners, automotive-specific fasteners and various surface treatment and chemical coating fasteners have become national priorities Products that support development. These support areas and development products have pointed out the direction for the transformation and upgrading of fastener manufacturers.