Congratulations to King Tower Hardware for successfully obtaining the IATF16949: 2016 certificate
​Dongguan King Tower Hardware passed the IATF16949-2016 quality management system certification on-site audit organized by Shanghai Encore Certification Co., Ltd. in December 2019.
The civil product system certificate registration number: T85267. In October 2019, it completed the first TS16949 The second supervisory review, and the IATF16949:2016 certification
in March 2020, marks the further improvement of Dongguan Jinda's production system management.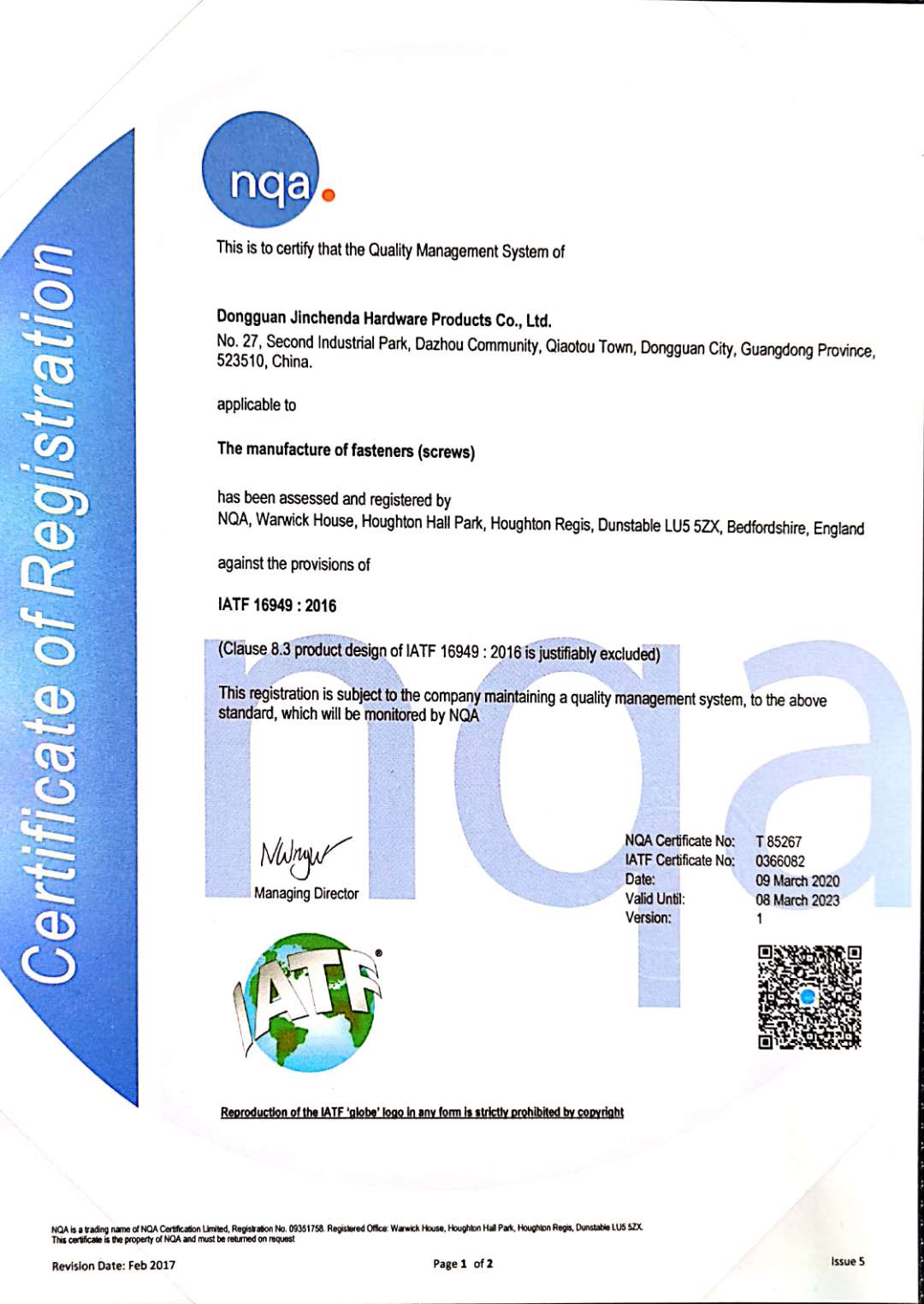 01 What is IATF16949?
IATF (International Automotive Task Force) is a specialized organization established in 1996 by the world's major automobile manufacturers and associations.
On the basis of combining with the ISO9001: 2000 version of the standard, under the approval of ISO/TC176, the ISO/TS16949:2002 specification was developed.
Updated in 2009 to: ISO/TS16949:2009. The latest standard currently implemented is: IATF16949:2016.

IATF16949:2016 is a technical specification of the international automobile industry, and its pertinence and applicability are very clear: this specification is only applicable to
automobile manufacturers and their direct parts manufacturers. These manufacturers must be directly related to the production of automobiles, be able to carry out processing
and manufacturing activities, and through such activities to add value to their products. This standard pays special attention to the finished product of the manufacturer and the
quality system ability to realize the finished product. It believes that this is the basis of the entire manufacturing process activities. Another feature is that it pays special attention to
the effectiveness of an organization's quality management system.

02 Significance to Dongguan Jinchenda
This time, it successfully passed the high-standard IATF16949:2016 certification. Jinchenda Screw will take this as an opportunity to continue to provide products and services that
exceed customer expectations and make customers more satisfied.